As RCS travels the land in our endeavor to spread the good news of hospitality training, we frequently hear a common lament from our partners in culinary departments: we can't find or retain good talent; we can't find cooks with basic skills. Tight labor markets, the challenges of staffing for seasonal operations, changes in immigrant worker requirements, popular reality foodie entertainment that is in no way representative of actual kitchen dynamics, the physical demands of kitchen work, unrealistic promises of culinary school matriculation, low compensation and work life balance are all ingredients creating this dilemma of turnover and under-staffed kitchens.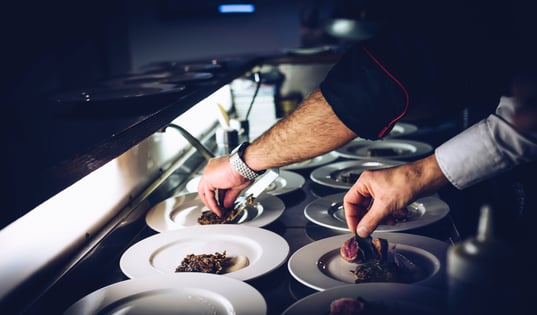 Most pressing, what about the level of ability and aptitude of those working various stations in the back of the house? Many in leadership roles of culinary departments are not finding cooks with the skill levels necessary for consistent, quality production of their menus. Should kitchens simplify their menus to the level of staff capability? Should kitchen leadership rely on the vast prevalence and availability of pre-made, pre-fab industrial food? These propositions are unrealistic and even a little sad to ponder. For clubs at least, member expectation is for variety when it comes to menus and offerings that change if not just seasonally, then weekly. This reality requires a team that has abilities and competencies to nimbly execute frequent changes to menus. These days, just about any food can be procured that is pre-cooked, pre-seasoned and ready for plating and many of those products offer a great labor-saving benefit and convenience for production. When so much food is "brought-in" the need for teaching classics and fundamentals is not as urgent. From béarnaise in-a-bag to pre-cooked and peeled hard boiled eggs and heat and serve duck confit, why even bother to assemble a kitchen brigade at all? In many instances the dining experience is delivered by a broad-line supplier. Before we commit ourselves to a culinary future of serving food from a box we might want to recognize that the alternative is to actively engage and mentor culinary staff, which requires an investment in time.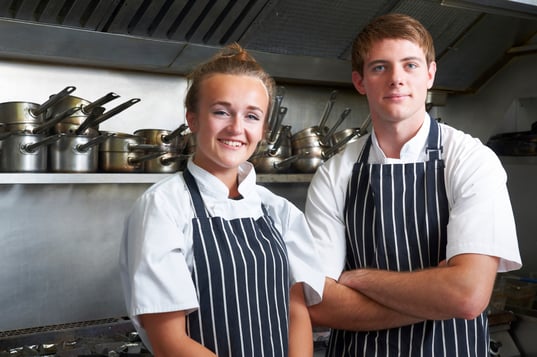 Finding and training staff takes time and there is no detour in that journey. The speed and frequency of turnover for cooks and chefs has created a reality of near desperation in hiring. Many establishments have all but given up on pre-hire protocols of exploring references and cooking interviews out of need to quickly fill a position. If a potential hire can fog a mirror, that candidate is in, regardless of ability or background. Not surprisingly, this practice usually perpetuates and accelerates the revolving door dynamic when either employer or employee finds the other incompatible and the hiring process begins again with frantic managers and disengaged candidates. In most cases hires are made in the interest of time, to onboard staff quickly and keep the enterprise moving forward. No irony is found when time is wasted from little time and attention paid to assessing skill and ability.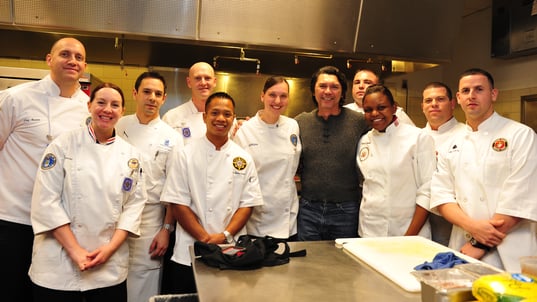 The great challenge for kitchen leadership is to find talent and develop skill. Both talent and skill are often thought of as nearly interchangeable and one can't exist without some aspect of the other. In a kitchen setting, knife skills are fundamental to all that happens from cutting board to plate. When knife skills are paired with a cook's innate talent for developing flavors and presenting appealing plate compositions a synergy of those subjects is achieved. Building and keeping a culinary team requires that both talent and skill be nurtured, cultivated and developed. With all of the aforementioned roadblocks that impede staffing a kitchen, it would seem that ongoing training and providing instruction that is focused on improving skill sets and knowledge in all aspects of an operation would aid in creating an environment where employees want to stay and advance.
There are many essentials that are crucial in creating and maintaining a highly functional, thriving, healthy kitchen environment. Among kitchen managers responsibilities of safety, standards and food quality, there are fundamentals to be taught, practiced and refined. From knife skills to fabricating meat to working a sauté station, training is an ever present, ongoing opportunity in a flourishing kitchen. Operators who embrace the practice of ongoing training and skill development and invest the time and resources in their team will have an advantage in mitigating unfilled jobs in need of an engaged, interested and confident population who have been taught to be experts in their positions.