Call it a convergence of the calendars, but this weekend offers a veritable palooza of fun foodie opportunities for every taste. Today, Star Wars Day, we can salute all our friends in the galaxy with "May the Fourth be With You" and eat like a Jedi serving up Ham Solo sandwiches and Darth Chocolate martinis. Saturday's quinella of festivities includes the convergence of Kentucky Derby Day and Cinco de Mayo. (Not to mention a lesser-known annual May 5th observance of National Beer Pong Day.)
To Julep or Margarita? Hot Brown or fish taco?
Maybe if we pace ourselves-ignore that new diet vodka that came on the scene just as we were packing up for our trip to Margaritaville, we can partake in a few of the classics over a festive weekend. Two favorites associated with Derby Day and Cinco de Mayo are the legendary Louisville Hot Brown and the deliciously refreshing Margarita.
The Hot Brown is a Louisville, Kentucky tradition originating in the 1920's at the Brown Hotel. The popular hotel drew over a thousand guests each evening for dinner dances where after all-night parties, jazz-era flappers and musicians would stream to the lobby bar in the early morning hours for something to eat. Chef Fred Schmidt, bored with making bacon and eggs, instead combined bacon, turkey and rich Mornay sauce to create the Hot Brown, a dish still served all around Louisville. The Hot Brown, as Kentucky-born as bourbon and burgoo, is found on Derby Day brunch tables in celebration of the Blue Grass State's annual Run for the Roses.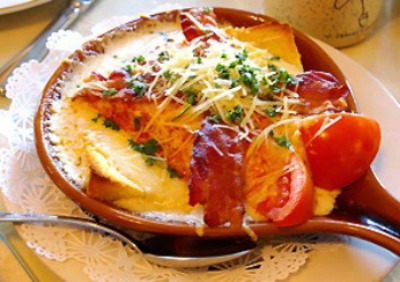 1 1/2 tablespoons salted butter

1 1/2 tablespoons all-purpose flour

1/4 cup Pecorino Romano cheese, plus extra for garnish

14 oz. sliced roasted turkey breast, slice thick

4 slices of Texas toast (crusts trimmed)

2 Roma tomatoes, sliced in half
In a two-quart saucepan, melt butter and slowly whisk in flour until combined to form a thick paste or roux. Continue to cook roux for 2 minutes over medium-low heat, stirring frequently. Whisk heavy cream into the roux and cook over medium heat until the cream begins to simmer, about 2-3 minutes. Remove sauce from heat and slowly whisk in Pecorino-Romano cheese until the Mornay sauce is smooth. Add nutmeg, salt and pepper to taste.
For each Hot Brown, place one slice of toast in an oven safe dish and cover with 7 oz. turkey. Take the two halves of Roma tomato and two toast points and set them alongside the base of turkey and toast. Pour half of the sauce over the dish, completely covering it. Sprinkle with additional cheese. Place entire dish under a broiler until cheese begins to brown and bubble. Remove and cross two pieces of crispy bacon on top. Garnish with tomato wedges, sprinkle with paprika and parsley and serve immediately.
While no one can know the origin of the margarita, one of the earliest of the multiple stories of it's beginnings claims that it was once upon a time in Mexico that the drink was created. The first mention in print of a Margarita cocktail is in the December 1953 issue of Esquire magazine where it states simply that, 'She's from Mexico, Señores, and she is lovely to look at, exciting and provocative'. That recipe only called for an ounce of tequila, a dash of triple sec and the juice of half a lime or lemon. While it was certainly one of the earliest tequila cocktails, the very first – according to drinks historian Greg Boehm – goes to the Young Man's Delight, mentioned in My New Cocktail Book (1930) by G. F. Steele.
Nowadays margaritas are prepared as many ways as there are stories as to the beginnings of this citrusy sipper; frozen, rimmed with or without salt, rocks or up.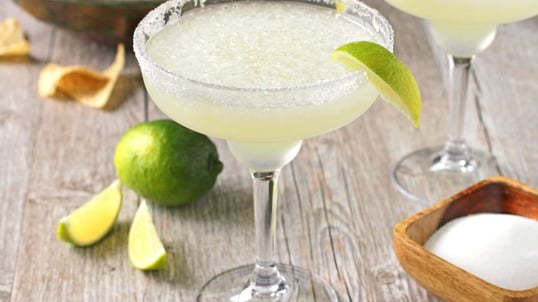 Here is our current favorite:
Lime wedge, plus 2 lime wheels for garnish

1 tablespoon coarse salt, for glass rims

4 ounces high quality blanco tequila

1 1/2 ounces fresh juice from 2 limes
Run lime wedge around the outer rims of two rocks glasses and dip rims in salt. Set aside

In cocktail shaker, combine tequila, Cointreau, and lime juice. Fill with ice and shake until thoroughly chilled, about 15 seconds (the bottom of a metal shaker should frost over).

Fill glasses with fresh ice and strain margarita into both glasses. Garnish with lime wheels and serve.
With so many stories laying claim to the creation, we may never know the true inventor of the cocktail. But as the saying goes: …" history is written by the victors"… and this weekend there is no winner like the margarita.