RCSU Live launching February 2nd!
As we continue to look for ways to be helpful to our valued RCSU Subscribers, the RCS Team is thrilled to announce that starting February 2nd at 2PM EST we are launching RCSU Live! RCSU Live! is a weekly mentoring program with founder and president, Whitney Reid Pennell and some of the highest-sought after industry experts. We'll be talking about quick training concepts and relevant industry topics of interest. Come and join us to share ideas, learn best practices and generally stay connected with each other in a fun and interactive way.
We look forward to having you join us on February 2nd! When you sign up, be ready to turn on your video and microphone and be a part of the conversation.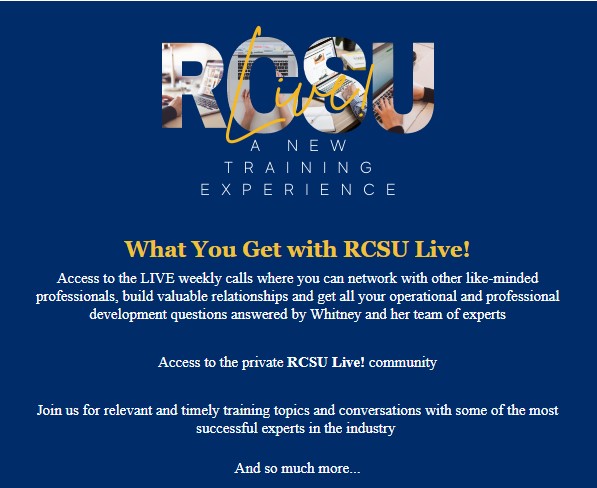 RCSU Live! is available exclusively to existing RCSU subscribers for only $29.99 per month* and we invite you to try your first month for free!
Not an RCSU Subscriber yet? What are you waiting for? Learn more and sign up!